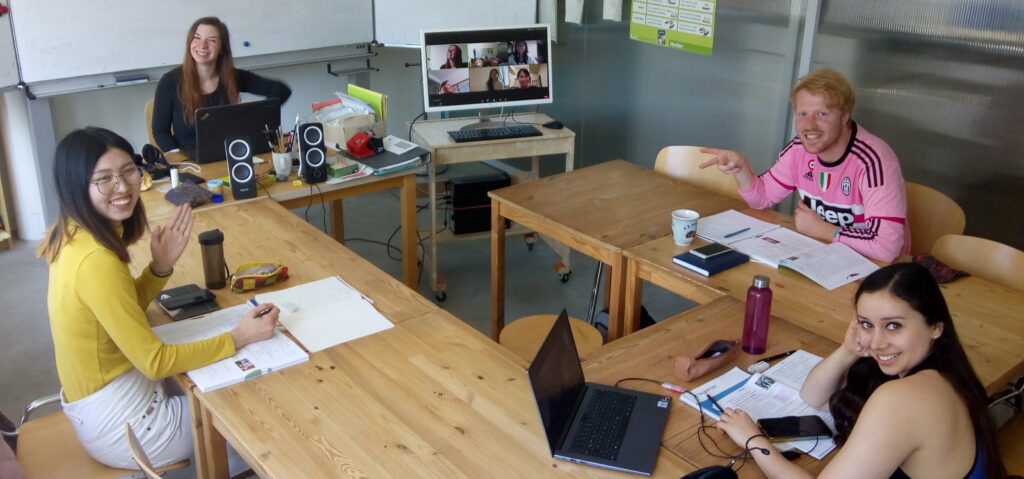 "Online Offline German course"
We have taken the best from our face to face and live stresm German courses … and built our new Online Offline German courses. Especially in times of Corona – but also beyond- we offer you our solid German courses not only face to face but also online via LIVE video at all levels, all year round with weekly course starts and individual course lengths.
With this you can start your German course online – for any reasons like quarantine, visa or travel delays – and switch to face to face modus once you arrive in Dresden …. or just stay online with us all the time. Take advantage of our CONTINUITY GUARANTEE.
Course levels
|| Start of every module/level once a month or specialised ->Calendar
|| One level in only 8 weeks :)!
|| Not a beginner? Click here for Level Test
*Also appropiate for "Telc C1 HSZ"
Level tests & exams
Towards following (international) acknowledged German exams we are preparing you +  offer you the pass the exam at our  Kolleg:
t e l c  A2, B1, B2, C1, C1 Hochschule + TestDaF. With our KK Level tests we are testing your current language level + confirm and document it with our certificate.
Quick and Reliable Success
... because you reach your goals by learning in small groups with an average of 9 participants + with professionals quickly and reliably.