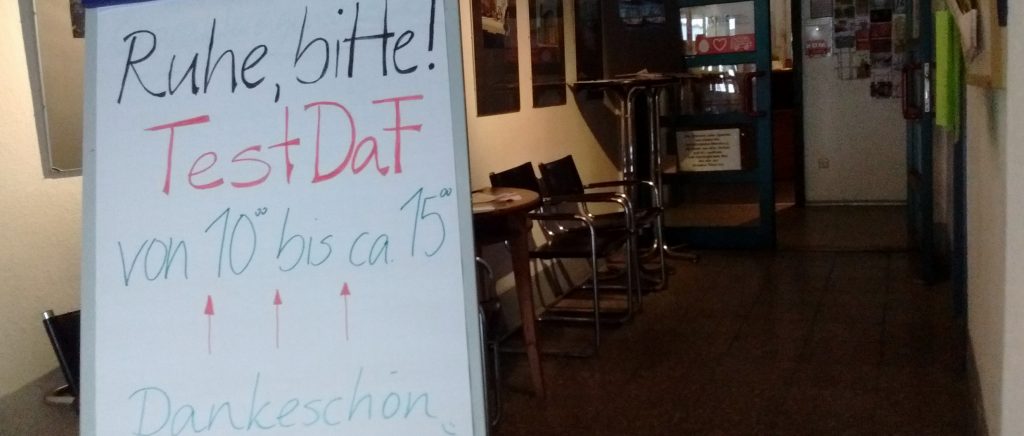 Official TestDaF + TELC testing center
Kästner Kolleg is an accredited test center for the most important German examinations: TELC B1, B2, C1, C1 HS and TestDaF. With this you can prepare yourself professionally for the telc examinations AND PASS THE EXAM right here at Kästner Kolleg. We are proud of our long-standing above-average pass rate of our participants.
Kästner Kolleg is an accredited TestDaF Test Center. This will allow you to prepare for the TestDaF at our school and pass the exam.
The TestDaF preparation consists of two parts:
Part I: General German course, e.g. our Standard Intensive Course 25 up to C1* (recommended).
Part II: TestDaF Preparation Course, where you not only get to know strategies for typical exam tasks, but also familiarize yourself with the exam by taking a practice exam.
TIP
If you book the "TestDaF Preparation" course, you automatically reserve a spot for the next TestDaF exam at Kästner Kolleg.
*B2 = TDN 3; C1 = TDN 4 / 16 Points
Info TestDaF:
There are 6 exam dates per year, see: www.testdaf.de
The exam currently costs: 195 EUR.
Registration for the examination at least 6 weeks in advance.
You have to wait about 6 weeks for the result.
Dates 2021: 09.02., 20.04., 08.06., 15.07., 09.09., 09.11.
At Kästner Kolleg you can prepare/examine you for the internationally recognized, most populare TELC exams like: telc B1, telc B2, telc C1 and telc C1-Hochschule. For all mentioned we prepare you optimally within our Intensive Course.
For the telc C1 Hochschule we can prepare you in our special telc C1HS module = 4 weeks intensively, Monday to Friday 09:30 am – 2 pm, face 2 face or via Liva Video (hybrid) – access requirement: B2 level. You are not sure what level you have? Take our placement test.
Info telc examinations:
12 dates (>calendar) per year.
The exam currently costs: 170 EUR.
Registration for the examination at leas 30 (14) days in advance.
You have to wait about 4 weeks for the result.
B1/B2 dates 2021: 19./20.01., 13./14.04.,/25./26.05., 29./30.06., 24./25.08., 21./22.09., 19./20.10., 23./24.11., 15./15.12.
C1 HS dates 2021: 09./10.03., 04./05.05., 27./28.07.
Consultation and registration in our office.
With our level test we can determine and confirm your current language level. It is similar in content, tasks and rating to the telc exam with four written parts: Reading comprehension, Listening comprehension, grammar, speaking skills as well as a conversation part.
Languages: German, English
Level: A1, A2, B1, B2, C1
Dates: any time – even on short notice – by appointment
Results: 2 days after the test* !
Certificate: Kästner Kolleg Certificate recognized by GER
Price: 170 EUR
*You should reach more than 60 % in written and in oral examination part.
Interculturality
... because the whole world meets in a classroom here. Interculturality is part of our beautiful everyday life, yes it is our lifeblood.