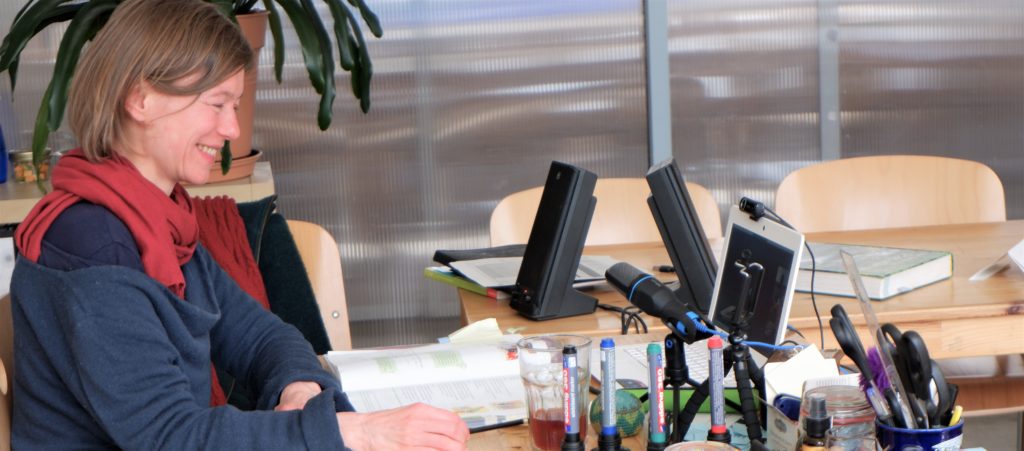 Learn German online.
We also offer you German lessons online or in special formats and subject areas, such as "German via LIVE Video", Student group trips or in-house training. Apart from online German classes, of course, you can also learn specialized language for business, technical use or medical German face to face with us at Kästner Kolleg.
With our online German course via LIVE Video you can learn German from your home or office, more individually and flexibly, whether it is for work, for an exam (TEstDaF, telc), for everyday life, or the next interview.
We always provide you with a personal tutor, who is a qualified native speaker. He or she will guide you through the course, eg. with 5 hours live teaching daily in our intensive course. Futhermore he or she will send you further assignments, correct your written work, motivate you and give you valuable feedback and tips.
"Learn German via LIVE Video":
use a PC, tablet or smartphone
follow a proven studies plan and schedule
from Monday to Friday between 9:30 and 14:00 CET
Prices, see: ->service ->price list ->regular prices
bookable from 1 to 40 weeks (or hours in private set up)
take a trial lesson at any time, >contact
We guarantee you that after the corona crisis your Online Course will continue as a face2 face offline course at our school or/and as an Online course. So you will be able to finish your course in any way.
Would you like to travel to Dresden for German lessons with your school class or student group? Are you looking for a program that is tailored to your needs and wishes? Then you are in the right place. We have been successfully supporting groups for 20 years and can accommodate up to 30 people, depending on the season.
Our offer includes:
intensive German course (special content on request) with 15-30 lesson units per week
as a separate group or in international learning groups
with workshops on specialized topics and contact with German schools, companies, and educational institutions
with leisure and excursion programs, level classification and certificate
Room & Board
in a modern hostel (please note timely booking!)
with breakfast or half-board
Just send us an e-mail with your specific wishes and we will put your language trip together.
We offer German courses to your international staff both in our school in Dresden Neustadt and in your company in Dresden and the surrounding area. We do the in-company training with our partner: "Sprachendienste Dr. Kästner"
Services
Advice on your options for training, including an offer
Planning your training concept toward the language needs and work situation
Evaluation, tests, certificates, official exams if necessary
German in German
... because at KK we teach you German in German from the 1st minute: Although it seems impossible at first, you will soon see that it works!
Applicants from India
please contact our representative, Dr. Saurabh Agarwal – WhatsApp:+919650901806 und +4917657923732 | Tel.: : ‭‭+4917657923732 und +4917634690366‬‬