Everyone who visits our school can be sure to find the highest quality instruction combined with a very friendly atmosphere and personal attention. Last but not least, we continuously ensure quality through extensive quality management.
Kästner Kolleg is committed to strict quality standards. Our school is regularly inspected for compliance and is constantly working to improve its quality.
We commit ourselves to the following quality criteria:
First-class qualification of teachers (degree/DaF qualification)
First-class qualification and level of management
Adequate facilities and equipment
Professional lesson concept, evaluation
Modern teaching materials and media
Quality of accommodation and cultural program
Fair and transparent teaching offers and pay for our staff
Respectful handling of complaints
Our students evaluate us continuously on various media and portals like Google+ or Language course net.
We´d like to thank everyone who has put the effort in to evaluate us – in order to help other to make a good choice..)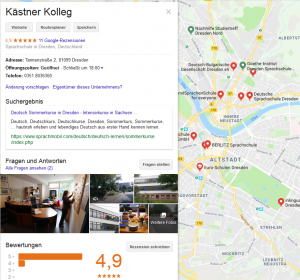 Evaluations on GOOGLE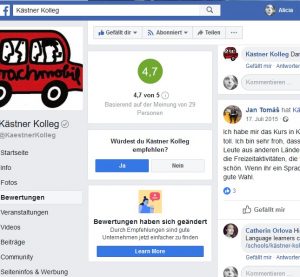 Evaluations on FACEBOOK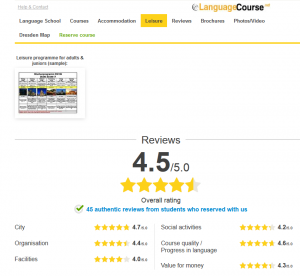 Evaluations on LANGUAGE COURSE . NET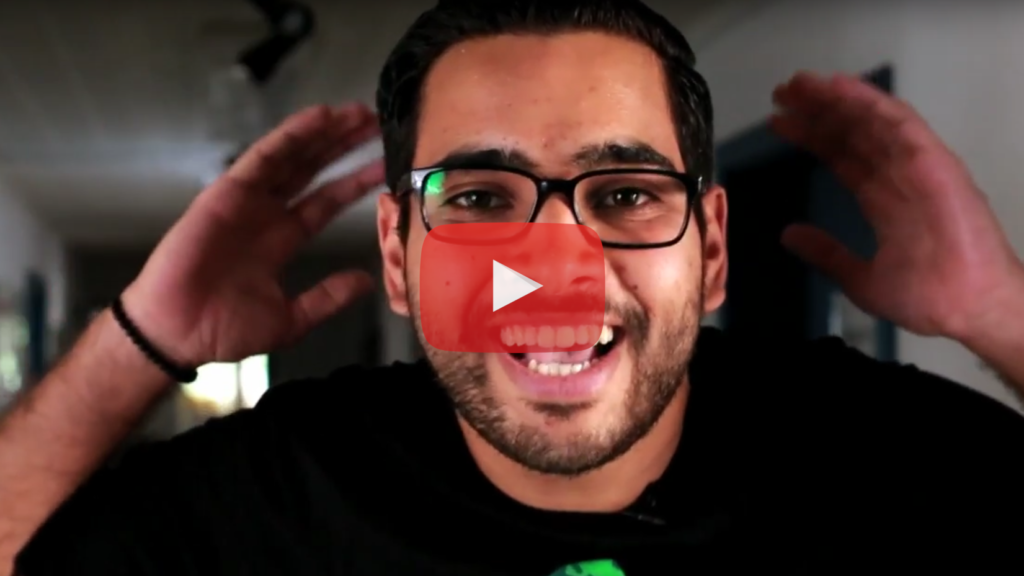 Quick and Reliable Success
... because you reach your goals by learning in small groups with an average of 9 participants + with professionals quickly and reliably.
Excellence in Quality
... because the quality of KK is known far beyond Dresden. Our participants on language-course.net have awarded us the "Excellence Award" 10 times in a row.
Learn Systematically and Plan
... because you can count on reaching your goal systematically at KK.
Multifaceted Leisure Program
... because with us you get to know Dresden, its culture and nature together with "locals" – and certainly love it too.
Examination Center
+ + + because you can prepare for the most important exams at KK and take them right here + + +
Interculturality
... because the whole world meets in a classroom here. Interculturality is part of our beautiful everyday life, yes it is our lifeblood.
Customized Courses
... because you get individual, customized course programs at KK.
Official Exam Center
... because at KK you prepare for the TestDaF / Telc exam properly as well as pass the exam in our official examination center.
Including Accommodation & more
... because we help you in the urban jungle: We find the right accommodation for you and help you with any questions, worries or uncertainties.
Goal-oriented
... because at KK you´ll accurately land your goal - for example in your next business meeting.
Passionate Teachers
... because the teachers at KK are not only highly qualified, but also committed and passionate about their work.
Authenticity
... because at KK you´ll learn authentic Deutsch, English oder Castellano.
#yourlanguagefamily
.... because at KK you are part of our Language Family and at the same time you meet amazing people from all over the world.
Great Location
... because KK is located in the trendy district of Dresden Neustadt: We are right in the middle of it directly above Alaunpark and still in the green; perfect to take a breather during the breaks.
Experienced & Qualified
... because at KK work only teachers with personality: not only experienced & qualified native-speakers but also teachers with heart and enthusiasm.
German in German
... because at KK we teach you German in German from the 1st minute: Although it seems impossible at first, you will soon see that it works!
Gallery Atmosphere
... because our art gallery "KaKoGa" offers rotating exhibitions of national and international artists throughout the year.