We can take care of your accommodation in Dresden if you wish – either with a friendly host family from Dresden, in a shared apartment (WG) or a private apartment, with transfer or meals – for every need and budget there is a proper "home away from home". If you are in Dresden for the first time and still a bit nervous, we´ll pick you up from the airport or train station, and guide you to your accommodation.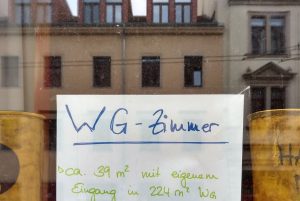 Please note:
All accommodations except host family are bookable only from the age of 18. With the written consent of your parents, host families can be booked if you are under 18 years old.
ALTERNATIVE ACCOMMODATION
Good, and above all, reasonably priced accommodations are not easy to find, especially in the summer months. If we cannot provide you with a suitable apartment in the desired period, you do not have to give up your German course. Our Accommodation Navigator is designed to help you find useful links to apartment portals, shared apartments and hostels in Dresden.
Including Accommodation & more
... because we help you in the urban jungle: We find the right accommodation for you and help you with any questions, worries or uncertainties.
MEALS AND OTHER EVERY DAY COSTS
Most self-catering units have a well-equipped kitchen. And if you do not want to cook, there are plenty of cafés and bistros nearby where you can get something good to eat and drink at a reasonable price (8 € per meal on average). Our palate-spoiled colleagues will surely give you a couple culinary tips.
Our "spending money overview" has average prices for museums, restaurants, transport etc. You can find out how much pocket money you should plan for your stay in Dresden.
TRANSFERS
Our service starts on your arrival. Upon request and for a surcharge, we will pick you up from the airport or train station and bring you to the place you are staying.
Host Families and shared apartments wanted
For its international guest students, Kästner Kolleg is always looking for friendly host families to stay with and furnished rooms in shared apartments to rent. The stays are between 1 and 40 weeks, inside the city of Dresden, partly include meals (breakfast, half-board with the host family), with good payment, with liability insurance and cancellation option.